Publisher: Sourcebooks
And everything changes.
For Monroe Blackwell, one small mistake has torn her family apart –leaving her empty and broken. There's a hole in her heart that nothing can fill. That no one can fill. And a summer in Louisiana with her Grandma isn't going to change that…
Nathan Everets knows heartache first-hand when a car accident leaves his best friend in a coma. And it's his fault. He should be the one lying in the hospital. The one who will never play guitar again. He doesn't deserve forgiveness, and a court-appointed job at the Blackwell B&B isn't going to change that…
Captivating and hopeful, this achingly poignant novel brings together two lost souls struggling with grief and guilt – looking for acceptance, so they can find forgiveness.
I'm familiar with Juliana Stone's new adult and contemporary romance novels. I like them...a lot...it's probably better to say I love them. When I saw this contemporary young adult novel with her name on it I thought, "Oh how cool! I've got to read this!" Juliana did not disappoint. This book was beautiful and yet made me cry.
I I loved Nathan and Monroe. Their respective tragedies were circumstances that were just heartbreaking accidents. Except the regrets left both of them incapable of dealing and what brought them together. I love how even though Monroe was so set on keeping everyone out and away, she was still able to recognize the hurt and pain in Nathan. I also loved how I had to work and wait for the details of the tragedy in Monroe's life, although I wasn't that patient and understanding while I read.
The chemistry between the two was off the charts amazing. I loved the witty dialogue they had and the fact the book was told from both their points of view. The interactions between the two of them and other secondary characters added another layer of depth to the story for me. I particularly loved Monroe's grandmother. That's one amazing woman!
Overwhelmingly it was all the emotions I felt that made me fall for this book. I'm not ashamed to admit I had to stop reading to get tissues. There was just something about how bravely Nathan and Monroe faced their fears together that really touched me. I am hoping for sequel to this book. I'd like to see how Nathan and Monroe are later on down the road. Of course, it goes without saying I hope Juliana Stone continues to write more young adult. She's certainly proven she's got the writing chops for it!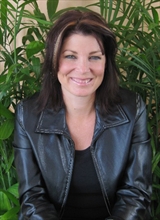 Juliana Stone fell in love with her first book boyfriend when she was twelve. The boy was Ned, Nancy Drew's boyfriend, and it began a lifelong obsession with books and romance. A tomboy at heart, she split her time between baseball, books, and music-three things that carried over into adulthood. She's thrilled to be writing young adult as well as adult contemporary romance, and does so from her home somewhere in Canada.
website: http://www.julianastone.com twitter:
https://twitter.com/Juliana_Stone
* A copy was provided by the publisher in return for an honest review. All opinions are my own and I was not compensated in any manner. I'm planning on buying this book for my own shelves.*