17 First Kisses
by
Rachael Allen
Publisher: HarperTeen
Release Date: June 17th 2014
Rating:
★★★★
1/2
stars
Synopsis:
No matter how many boys Claire kisses, she can't seem to find a decent boyfriend. Someone who wouldn't rather date her gorgeous best friend, Megan. Someone who won't freak out when he learns about the tragedy her family still hasn't recovered from. Someone whose kisses can carry her away from her backwoods town for one fleeting moment.
Until Claire meets Luke.
But Megan is falling for Luke, too, and if there's one thing Claire knows for sure, it's that Megan's pretty much irresistible.
With true love and best friendship on the line, Claire suddenly has everything to lose. And what she learns—about her crush, her friends, and most of all herself—makes the choices even harder.
In her moving debut, Rachael Allen brilliantly captures the complexities of friendship, the struggles of self-discovery, and the difficulties of trying to find love in high school. Fans of Sarah Ockler, Susane Colasanti, and Stephanie Perkins will fall head over heels for this addictive, heartfelt, and often hilarious modern love story.
My young adult reading slump maybe over. I've just read two great books back to back and I read this book in one sitting. So yeah, I'd say it's over. Yay! Now back to this amazing book. This might be Rachael Allen's debut book but you'd never know it from reading the book. Everything is great. I love the flashbacks to Claire's kisses. Each one is clearly noted so there's no confusion and I loved finding out the situations in which many of her kisses came about.
I think what surprised me most about this book was how intricate the story is. It's not just about Claire, Megan, their friendship, and Luke like I expected. It's also about family, loss, peer pressure, and just about everything else a teenager has to deal with. I loved Claire and wanted to put on armor and go out and defend her and beat up those who hurt her.
I was also surprised at how quickly Claire was able to forgive those who hurt her and handle everything the way she did. I don't think I'd be able to be as forgiving as she was. I take that back, I know for sure I wouldn't be able to be as forgiving. Claire might have kissed or been kissed by lots of frogs, but overall I thought she was a pretty great person and one whom I'd have liked as a friend in high school.
I'm very happy I picked up this book. Not only did I discover a great book, but I found a new author to watch out for. I'm hoping I'll see her at a signing somewhere close by soon. She does live in the same city as me. I can't wait to see what she writes next! :)

* I purchased the paperback. My opinions are my own and I was not compensated for them in any manner.*
This made me laugh out loud as I read it and I think you'll find it funny too. By the way they're playing soccer.
"It's cool. I like a girl who can play." He winks at me, and I'm momentarily startled by his eyes. They're blue and dreamy and everything, but there's something else, something shuttered, and that's the part I find myself strangely drawn to. If my life were one of those paranormal romances, he would be the guy that turns out to be a were-manatee or whatever.
And because I'm so busy mooning over said manatee eyes, Luke gains the split-second advantage he needs to get around me and score. Oh, it is on.
I have to earn my next point, with fakes and spin moves and every trick in my arsenal. Luke isn't cutting me any slack, and I'm glad. I could never respect a guy who did. Plus I kind of like the way he's all up in my personal space."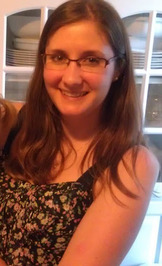 Rachael Allen lives in Atlanta, GA where she's working furiously on her PhD in neuroscience. When she's not doing science or writing YA, you can find her chasing after her toddler and her two sled dogs. Her debut YA novel 17 FIRST KISSES, is forthcoming from Harper Teen. Rachael may or may not have had 17 first kisses...luckily she doesn't kiss and tell.
Win (1) Signed Copy of 17 First Kisses + Swag, + an ARC of I Will Give You the Sun by Jandy Nelson (US Only)