Rating:
★★★★★ stars
Date published: April 28th, 2015
Publisher: Elle Kennedy
Synopsis:
He's a player in more ways than one…

College junior John Logan can get any girl he wants. For this hockey star, life is a parade of parties and hook-ups, but behind his killer grins and easygoing charm, he hides growing despair about the dead-end road he'll be forced to walk after graduation. A sexy encounter with freshman Grace Ivers is just the distraction he needs, but when a thoughtless mistake pushes her away, Logan plans to spend his final year proving to her that he's worth a second chance.

Now he's going to need to up his game…

After a less than stellar freshman year, Grace is back at Briar University, older, wiser, and so over the arrogant hockey player she nearly handed her V-card to. She's not a charity case, and she's not the quiet butterfly she was when they first hooked up. If Logan expects her to roll over and beg like all his other puck bunnies, he can think again. He wants her back? He'll have to work for it. This time around, she'll be the one in the driver's seat…and she plans on driving him wild.
Before I talk about anything else, can we all please take a moment to reflect on the amazing cover? I'm not someone who usually pays much attention to them, because I'm always eager to get into what's between the covers, but that doesn't mean I can't take a moment or ten to appreciate one. Now that that's done, I can tell you all about how much this book amazed me and entertained me.
I haven't read many books by Elle Kennedy, but I'm beginning to realize how talented a story teller she is. She somehow manages to take a guy who messes up with a great girl and turns it into a journey of self discovery and growth for the both of them. I was hoping for something funny and hot, but instead found a story that is
mentally, physically, and emotionally engaging while also being impossible to put down.
I loved that the story was told from dual points of view. It was great being inside John "Logan" Logan's head and in Grace Iver's too. There were no guessing games about what they were thinking about or about how the felt about each other. However the real fun for them began when they tried to figure out the mess their "relationship" had become. I was totally surprised by how easy things felt between Logan and Grace, especially with them being on opposite sides of the social hierarchy at Briar University and polar opposites when it came to personalities, but it turns out none of that mattered at all.
It's hard to pin point what it was about this book I enjoyed the most. It's a three way tie between the chemistry, dialogue, and issues Logan and Grace faced. Logan and Grace had wonderful chemistry. While things may not have started out slowly between them, I really enjoyed seeing the relationship between them develop. I felt like it was a slow burn, because they both had to work to overcome choices the other had made. I also love how much I laughed while I read this book. Both Grace and Logan were extremely witty in their repartee with one another and in their own inner monologues and thoughts. I thought it was adorable seeing Grace babble, but that's because I have that particular habit as well.
College is a time to try new things, but as Grace finds, somethings don't change. I empathized with her for the situation she found herself dealing with concerning a trusted friend. I also understood her pain when Logan made the mistake that changed both of them. I also understood Logan's pain, confusion, and torn feelings about Hannah and Grace. I even understood his desire and fear when he looked to his future and didn't like what he saw. I
will say this though, even though Grace and Logan were each facing so many challenges and changes, I loved how resolute they were in facing them. When Grace needed support, Logan was there and vice versa.
This series has quickly become one of my favorites. I loved seeing Garrett and Hannah again. I loved being surprised by Logan and Grace's interactions with one another. Seeing all four of the roommates interact and support one another, was also satisfying to read about. They look at for one another as much as they tease each other. I loved watching Logan realize the error he made and then do everything he could to rectify it. That boy certainly knows how to woo. I look forward to seeing how Elle Kennedy tops herself with Dean and Tucker's stories.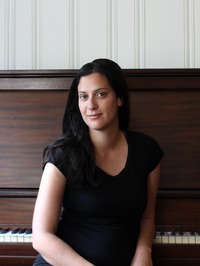 A USA Today bestselling author, Elle Kennedy grew up in the suburbs of Toronto, Ontario, and holds a B.A. in English from York University. From an early age, she knew she wanted to be a writer, and actively began pursuing that dream when she was a teenager.
Elle writes romantic suspense and erotic contemporary romance for various publishers. She loves strong heroines and sexy alpha heroes, and just enough heat and danger to keep things interesting!
*Thank you to the publicist for providing a copy in exchange for an honest review. All opinions are my own and I was not compensated for them in any manner.*