New cover.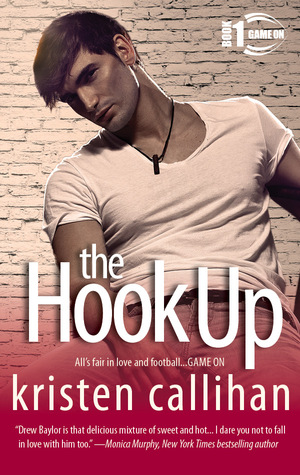 Original e-book cover.
Rating:
★★★★★ stars
Date published: September 7th, 2014
Publisher: Plain Jane books
Synopsis:
The rules: no kissing on the mouth, no staying the night, no telling anyone, and above all…
No falling in love.
Anna Jones just wants to finish college and figure out her life. Falling for star quarterback Drew Baylor is certainly not on her to do list. Confident and charming, he lives in the limelight and is way too gorgeous for his own good. If only she could ignore his heated stares and stop thinking about doing hot and dirty things with him. Easy right?
Too bad he's committed to making her break every rule…
Football has been good to Drew. It's given him recognition, two National Championships, and the Heisman. But what he really craves is sexy yet prickly Anna Jones. Her cutting humor and blatant disregard for his fame turns him on like nothing else. But there's one problem: she's shut him down. Completely.
That is until a chance encounter leads to the hottest sex of their lives, along with the possibility of something great. Unfortunately, Anna wants it to remain a hook up. Now it's up to Drew to tempt her with more: more sex, more satisfaction, more time with him. Until she's truly hooked. It's a good thing Drew knows all about winning.
All's fair in love and football…Game on.
New Adult/Contemporary Romance with a HEA - Recommended for readers 17 and older.
I consider myself lucky. I first discovered Kristen Callihan right before the release of the prequel
Ember
, her historical steam-punk romance in 2012. Soon after the first full length novel in her Darkest London series,
Firelight
, was published and that's all it took for me to know I was onto something special.
Fast forward two years and fours books and one novella later to
The Hook Up
, Kristen's first contemporary romance. I knew without a doubt it wasn't going to be a cookie-cutter new adult novel.
There were a few things about this book that took me by surprise. One was how much I loved the story. Especially since it started out with insta-attraction. That's one of my pet peeves. However, as the story continued, it shifted from that initial superficial attraction to something more meaningful and emotionally satisfying. That was my second sign this book wasn't going to be ordinary.
Obviously if you're a fan of new adult you've read the cliched romance with the jock, in particular the winning, handsome quarterback of the college football team. Drew Baylor might be all of that, but defining him using those parameters is a disservice. He's confident, honest, upfront, dedicated, determined, and patient. Drew didn't just see Anna and want her. He saw her and KNEW she was it for him. It was just that simple for him. Of course until he opened his mouth to speak to her. (Third hint this book was special.)
Convincing Anna to return his sentiments wasn't that easy. Anna might have lusted after Drew's body, but she wasn't willing to think of it as anything more than a hormonal release. I understood her confusion at Drew's interest even if I didn't agree with her. Anna didn't think she was special enough and you add that to what she'd seen of relationships growing up, him chasing her didn't make any sense to her, especially since he wanted more than just her body. The chemistry the two of them had was fiery. It translated into their dialogues with one another, the way they acted around each other, and of course came through when they were touching one another as well.
This book made me laugh and made me cry, but all through it, I loved Anna and Drew, and their story. Ironically, as pages were flying by and the story kept getting better and better, I started hoping the book would never end. I didn't want to stop reading. Drew and Anna face some challenges, but they handled them well. I can't believe I'm going to say this, but I would've been okay with a cliffhanger, because that would've meant there'd be more Drew and Anna to read later. Of course with Gray, Drew's team mate and tight-end, getting a book, it means I'm going to get to see them anyways, so all is well that ends well. The Hook Up is a book that shines best when read, so pick it up for yourself and find out!
Kristen Callihan is an author because there is nothing else she'd rather do. She is a three-time RITA nominee, and winner of two RT Reviewer's Choice awards. Her novels have garnered starred reviews from Publisher's Weekly and the Library Journal, as well as being awarded top picks by many reviewers. Her debut book FIRELIGHT received RT Magazine's Seal of Excellence, was named a best book of the year by Library Journal, best book of Spring 2012 by Publisher's Weekly, and was named the best romance book of 2012 by ALA RUSA. When she is not writing, she i
s reading.
*I purchased a copy of this book. All opinions are my own and I was not compensated for them in any manner.*