Rating:
★★★★★ stars
Date published: February 24th, 2015
Publisher: self published
Synopsis:
She's about to make a deal with the college bad boy...
Hannah Wells has finally found someone who turns her on. But while she might be confident in every other area of her life, she's carting around a full set of baggage when it comes to sex and seduction. If she wants to get her crush's attention, she'll have to step out of her comfort zone and make him take notice…even if it means tutoring the annoying, childish, cocky captain of the hockey team in exchange for a pretend date.
...and it's going to be oh so good.
All Garrett Graham has ever wanted is to play professional hockey after graduation, but his plummeting GPA is threatening everything he's worked so hard for. If helping a sarcastic brunette make another guy jealous will help him secure his position on the team, he's all for it. But when one unexpected kiss leads to the wildest sex of both their lives, it doesn't take long for Garrett to realize that pretend isn't going to cut it. Now he just has to convince Hannah that the man she wants looks a lot like him.
Elle Kennedy has stormed onto my radar in a huge way with this book. There was a lot of hype surrounding it and I was worried either I'd be impressed or let down especially since I'd never read anything by her before. But that's definitely going to change. I couldn't help but fall in love with the characters and their story. I think part of the reason this book won me and others so completely is how it's the perfect mix of romance and realism.
I absolutely loved Hannah. Right from the beginning you can tell she's vulnerable yet resilient. She's coming out of a fog from something in her past and I couldn't help but cheer her on. I loved how committed she was to her friends and making something of herself. She's been let down before and it's not going to happen again, at least not on her watch. I admired her so much for her positive and forward bound attitude. She's so much stronger than she looks and wiser beyond her young age.
Garrett was a surprise. He might be an unrepentant player, but he's serious about his hockey and apparently his studies too. He's no dumb jock. Nor is he the spoiled son of a hockey star. He works hard for what he wants. I loved being in his head. He was so funny and swoon worthy at the same time. I loved how he saw Hannah. He even saw beyond what she was portraying to everyone else. Usually it's the girl who clues into her feelings first, but it was Garrett who realized he was onto something special and important. I loved how supportive of Hannah he was. I also loved his strong sense of right and wrong.
Hannah and Garrett together work perfectly. Both of them individually are wonderful, but put them together and it's amazing how potent their chemistry is. I loved seeing them tackle the hurdles and challenges that came their way. They stumbled at times, but quickly realized what they had was essential to their happiness. There are a number of serious issues that come up in the duration of the book in relation to both Hannah and Garrett. I'd like to give props to Elle Kennedy for handling them properly and with the deference they deserve. My heart broke for both Hannah and Garrett and the pain they experienced. I wanted to reach into the pages and do some serious damage to the people who hurt them and then failed them.
You might be thinking this book doesn't sound that different from any other college athlete story. You'd be wrong. There's something about the characters and the story that will stick you long after you finish reading. I'm a little frustrated at how inadequate my words feel describing this book. I was hooked from the first page and have re-read this book once already. Having met Hannah, Garrett, and their friends, I'm ecstatic Logan and hopefully the others will be getting their own stories. Not only am I anxious for more Hannah and Garrett, I'm looking forward to seeing how Elle Kennedy surprises me with a new story and twists. I have no doubt she'll make it spectacular and worth the wait.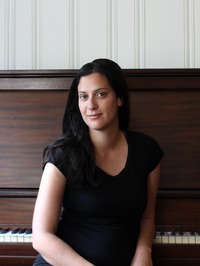 A USA Today bestselling author, Elle Kennedy grew up in the suburbs of Toronto, Ontario, and holds a B.A. in English from York University. From an early age, she knew she wanted to be a writer, and actively began pursuing that dream when she was a teenager.
Elle writes romantic suspense and erotic contemporary romance for various publishers. She loves strong heroines and sexy alpha heroes, and just enough heat and danger to keep things interesting!
*I purchased a copy of this book. I'm also hoping to add the paperback to my shelf once it's available for sale. All opinions are my own and I was not compensated for them in any manner.*