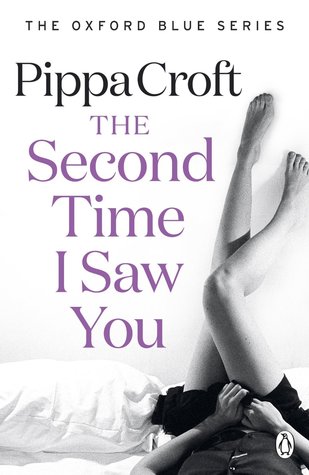 Rating:
★★★★★ stars
Date published: May 23rd, 2014
Publisher: Penguin Books
Synopsis:
Lauren and Alexander's journey continues in the second novel in Pippa Croft's Oxford Blue romance series.
It's the beginning of a new term at Wyckham College, Oxford, and a fresh start for Lauren Cusack. Her fingers were badly burnt when a whirlwind romance with gorgeous English aristocrat, Alexander Hunt, became too hot to handle - and now she's determined to keep her distance.
Her resolve is shaken when Alexander appears on her doorstep - he's been completely torn apart by some devastating news. Lauren knows that she should stay away, but their chemistry is undeniable and she soon finds herself back in Alexander's arms.
Can Lauren handle the drama that comes with Alexander Hunt? Or will she have to sacrifice the most exhilarating passion she's ever known . . .
I've had this book for sometime now. I hesitated to read this second installment in The Oxford Blues story because I was a little afraid to see what was going to happen between Lauren and Alexander. I shouldn't have. These are my initial thoughts after I'd just finished reading the book at 1:30 AM. "
Holy Mother of God! Why'd I wait so long to read this book? This book is amazing! I didn't think Pippa could out do herself, but she did! Full review to come soon! I must ruminate on the awesomeness that is Alexander and Lauren."
Now that I've had a couple of days to think about this book, I feel like I finally talk about it and do it a modicum of justice. The First Time We Met, the first book in this series, ended on sort of a cliffhanger. I wasn't sure how Lauren and Alexander were going to find their ways back to each other, but they did and it was really believable. Lauren realized this time all the warnings she'd been given about Alexander were true, so she was there for him in his time of need but trying not to engage her heart. Alexander was different but that was due to the effect of the tragedy in his life and the added/changed responsibilities he had. I thought he was a lot more open in this book, even though he still remained quite enigmatic.
I liked seeing Lauren trying to help Alexander and support him. I completely understood when she said Alexander was like an addiction she just couldn't quit. It took a while after I finished reading the first book and this one to stop thinking about the both of them and what was going to happen in the third and final book. I also love how Pippa kept the story flowing. I liked the addition of Emma to the story even though I did think of her as a little brat sometimes. She wasn't willing to listen to reason or think outside of the things she wanted. I loved seeing Emma and Alexander together. Their sibling relationship was close even though they differed in opinion on a number of things.
This book was so good and exciting I couldn't put it down. There were a number of events I easily predicted and some I couldn't have seen coming at all. There were a couple of doozies that I didn't think Lauren and Alexander would be able to overcome. I wasn't very happy to see Rupert and the dastardly Valentina up to their old tricks. I know what Valentina's game is but I'm still lost as to why Rupert is so cruel to Lauren and what he really wants from Alexander. I was also a little surprised by the turn in sexy times between Lauren and Alexander. All that aside, I think my absolute favorite part of the book was near the end. It was something that reminded me Alexander did a la Mr. Darcy in Pride and Prejudice, that totally made me swoon.
The Second Time I Saw Your Face ends on a major cliffhanger. There will be no prolonged wait to read the final installment to find out what happens next. I have loved this series so far and can not wait to see what Pippa does next to resolve the problems hanging over both Lauren and Alexander's heads.
* Thank you to the publisher for providing a review copy via Netgalley in exchange for an honest review. All opinions are my own and I was not compensated for them in any manner.*