Rating:
★★★★★ stars
Date published: October 28th, 2014
Publisher: Berkley Sensation
Synopsis:
Return to New York Times bestselling author Nalini Singh's sensual and painfully beautiful Guild Hunter world in her new novel of sacrifice, loyalty, and the choices of love that can shatter the heart.
In the wake of a brutal war, the archangel Raphael and his hunter consort, Elena, are dealing with the treacherously shifting tides of archangelic politics and the people of a battered but not broken city. The last thing their city needs is more death, especially a death that bears the eerie signature of an insane enemy archangel who cannot—
should not
—be walking the streets.
This hunt must be undertaken with stealth and without alerting their people. It must be handled by those who can become shadows themselves…
Ash is a gifted tracker and a woman cursed with the ability to sense the secrets of anyone she touches. But there's one man she knows all too well without a single instant of skin contact: Janvier, the dangerously sexy Cajun vampire who has fascinated and infuriated her for years. Now, as they track down a merciless killer, their cat-and-mouse game of flirtation and provocation has turned into a profound one of the heart. And this time, it is Ash's secret, dark and terrible, that threatens to destroy them both.
I first met Janvier and Ashwini in a novella Nalini Singh wrote in 2009, titled Angels' Pawn. I was intrigued then and my fascination with both Ashwini and Janvier increased with each mention of them in almost every Guild Hunter story that has come since. I thought I knew their story, but as Nalini proved, I was wrong. I only knew the smallest part of their individual stories and only slightly more of the the one they were to take together.
Janvier and Ashwini have always had chemistry, but I wasn't sure what it was that held them apart.
The book started off with lots of action happening right from the first page and continued at that pace for quite some time. I think knowing from previous experience the story can always take an unexpected turn, that had me on edge for most of the time I was reading. Some of those unexpected twists did happen and even though I thought I was ready for them, I wasn't. I think some of my favorite moments in this book are the moments of tenderness I saw. These moments weren't just between Ash and Janvier, but between Elena and Raphael, and the Seven who've found their loves. I loved seeing Elena interact with the Legion. I also loved seeing more of the workings of the Guild, something I always find fascinating.
The relationship between Janvier and Ashwini made me swoon. I understood Ashwini's fears over her future, but it was hard to understand why it was holding her back. I was absolutely head over heels for Janvier and it had nothing to do with his physique, looks, or Cajun accent, and everything to do with his love and devotion for Ashwini. I loved seeing their relationship change from undecided and hesitant to resolute and strong. I think what surprised me the most was even though they sparked off each other so much, their romance was such a slow burn and still so satisfying. I loved how they were truly partners in all things and how they looked out for one another.
The mystery and intrigue in this novel was phenomenal. I kept trying to guess who was responsible for all the malevolent incidents in the city, but I was nowhere near close to the truth. I'd read some more, re-calibrate my thoughts and try to guess again, never fully getting my finger on what was going on. It's hard to fully express how emotionally involved I was while reading about what happened to many of the victims in this book.
I'm always very excited to hear news about the Guild Hunter series. It's my one of my favorite paranormal series. I have my hopes on whom will be falling in love next, but know I will enjoy whatever story may come and I can always trust Nalini to keep it fresh, full of action, intrigue, and emotion. I always expect to smile, laugh, and cry because I can't help myself. I think this book is the most unique in this series and I can't wait to see what comes next!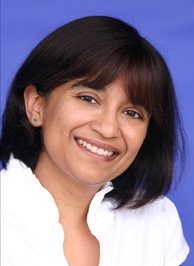 I've been writing as long as I can remember and all of my stories always held a thread of romance (even when I was writing about a prince who could shoot lasers out of his eyes). I love creating unique characters, love giving them happy endings and I even love the voices in my head. There's no other job I would rather be doing. In September 2002, when I got the call that Silhouette Desire wanted to buy my first book, Desert Warrior, it was a dream come true. I hope to continue living the dream until I keel over of old age on my keyboard.
I was born in Fiji and raised in New Zealand. I also spent three years living and working in Japan, during which time I took the chance to travel around Asia. I'm back in New Zealand now, but I'm always plotting new trips. If you'd like to see some of my travel snapshots, have a look at the Travel Diary page (updated every month).
So far, I've worked as a lawyer, a librarian, a candy factory general hand, a bank temp and an English teacher and not necessarily in that order. Some might call that inconsistency but I call it grist for the writer's mill.
*Thank you to the publisher for providing a copy via Netgalley in exchange for an honest review. All opinions are my own and I was not compensated for them in any manner.*