I'm very excited to share with you some questions Sharon Page answered regarding her latest book, An American Duchess. Sharon's written some amazing novels, and I'm very eager to read this one. read on to find out more about Sharon's writing process and the book!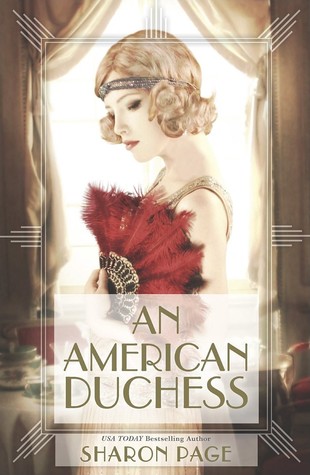 Set on a crumbling English manor estate during the height of the Roaring Twenties, an American duchess must decide how much she's willing to risk for the life she truly desires…
It's 1922, and New York heiress Zoe Gifford longs for the freedoms promised by the Jazz Age. Headstrong and brazen, but bound by her father's will to marry before she can access his fortune, Zoe arranges for a brief marriage to Sebastian Hazelton, whose aristocratic British family sorely needs a benefactor.
Once in England, her foolproof plan to wed, inherit and divorce proves more complicated than Zoe had anticipated. Nigel Hazelton, Duke of Langford and Sebastian's older brother, is as austere and imposing as the family's ancestral estate. Still reeling from the Great War, Nigel is now staging a one-man battle against a rapidly changing world—and the outspoken Zoe represents everything he's fighting against.
When circumstances compel Zoe to marry Nigel rather than Sebastian, their heated quarrelling begets passion of another sort. But with Nigel unwilling to change with the times, will Zoe be forced to choose between her husband and her dreams?
When you start a book, do you already have the whole story in your head or is it built progressively?
I start a book by writing the last line first. This was inspired by a workshop by author Molly O'Keefe where she said the whole book hurtles to the last line. I like to start by knowing where I'm hurtling.
I have to write an outline and a synopsis. Even for self-published works. I inevitably vary from the synopsis as I get to know the characters better. Some synopses I have done had large gaps in the middle, covered by the phrase "and then stuff happens".
I like to alternate between free thinking—where I write pieces of dialogue and scenes—and nailing down a synopsis to get started. Another trick I've used to make the task of writing a book feel manageable is to list what should be in each chapter and write bits of each chapter. When I get stuck, I move on. I can quickly create the overall shape of a book, then I can fill in the rest. And polish!
Tell us something that people would be surprised you know how to do.
Unfortunately I couldn't think of anything very exciting like flying an airplane or performing surgery. I can use a milling machine, which did surprise a former boyfriend. I learned skill that when I was in university, studying industrial design.
What's the opening line from An American Duchess?
I actually cut a couple of scenes from the front of the book, trying to find the right place to start. I decided to jump right into the action in Zoe, the heroine's point of view, and show how at ease she is with the modern world of the 1920s, especially automobiles:
Normally, Zoe Anastasia Gifford was a spectacular driver.
Sharon Page is the New York Times and USA Today bestselling author of numerous novels of historical and erotic romance. She is a two-time, consecutive winner of the National Readers' Choice Award, winner of the Golden Quill and the Colorado Award of Excellence, and a multiple finalist for the Daphne Du Maurier Award. She has twice received the Romantic Times Reviewers' Choice Award, and is a four-time finalist.
Married with two children, Sharon Page holds an industrial design degree and has worked for many years for a structural engineering firm. When not writing, she enjoys reading with her children, downhill skiing, and mountain biking. Writing romance has long been her dream and she is thrilled to share her stories.