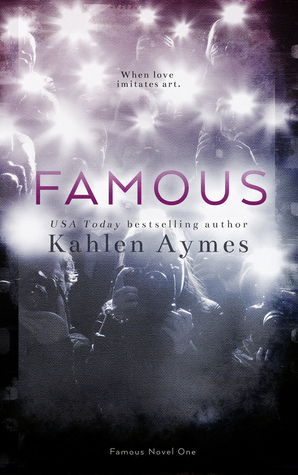 Rating:
★★★★ stars
Date published: March 17th, 2015
Publisher:
Telemachus Press, LLC
Synopsis:
Caden Carlisle is a world-renowned superstar with good looks, million dollar movie deals and women throwing themselves at him wherever he goes. He has it all… but wants nothing more than a normal life without the paparazzi and glitz.
Brooklyn Holloway is an up and coming starlet with a solid head on her shoulders and her eyes wide open. It's all about art for her and she isn't looking to star in blockbuster films. She's perfectly happy keeping a low profile and doing indie projects with a message.
When fate throws the two of them together on set; both are unprepared for their undeniable connection. Cade is drawn to Brook's down-to-earth wholesomeness and she can't help the irresistible pull of his good looks, sense of humor and chivalrous ways... So, when he begins to think he's in love with her, resisting is next to impossible, despite being committed to someone else.
Only when filming ends and the world's fascination with celebrity invades their bubble, can they decide if the emotions they felt on set were scripted, or forever.
Kahlen Aymes has long been on my radar, and when news of her latest book Famous was revealed, there was no one happier than me. I love stories featuring celebrities and although most celebrity relationships don't work out in the long run, I was eager to see how the subject matter was tackled. I have to say Kahlen Aymes did a great job.
I couldn't wait to start reading, however everything wasn't as smooth as I'd hoped it'd be. I had a hard time figuring out where the story was going in the beginning. The prologue confused me. When I got to chapter one, that confusion didn't abate. It took me a while to connect the two and understand what was going on. As I continued reading, I realized I felt like the prologue had been taken out of the body of the story. With my confusion cleared up, I was quickly pulled into Brooklyn and Cade's story.
Brooklyn really seemed like an old soul. She's just turned 18 and is starring in her first film. She's insanely attracted to her co-star, Cade and he's just as drawn to her. I could really feel how connected they were. Brooklyn was a mess when filming ended and she wasn't sure why, especially when she already had a boyfriend. I wasn't sure how old Cade was, but I liked how he showed his love and concern for Brook. The two of them were just perfect for each other. And he was sincere in his affections for her.
I liked the realism of this story. You've got two Hollywood stars dealing with the drama of paparazzi, unwanted attention from hanger-ons, movie studio interference, and so much more. It really felt like Brooklyn and Caden had to struggle for every moment together and I kept wondering when the other shoe was going to drop. The book didn't end with a clear resolution, which means there is room for a sequel. There's also no cliffhanger either, so there's no need to panic. I can't wait to see what happens with Brooklyn and Caden. I have my fingers crossed it'll be smooth sailing, but I have a feeling that's not very likely.
Kahlen is an award-winning author of sizzling hot, deeply moving contemporary romance. Her stories are filled with intense love, passion, angst and emotion that breathes life into her characters and leaves her readers captivated. She lives near Omaha, Nebraska with her daughter, Olivia and their three dogs. Creative by nature, she enjoys the arts, music and theater... But the love of her life is writing!
Represented by Elizabeth Winick-Rubinstein of McIntosh & Otis Literary Agency.
*Thank you to the publicist for providing a copy in exchange for an honest review. All opinions are my own and I was not compensated for them in any manner.*