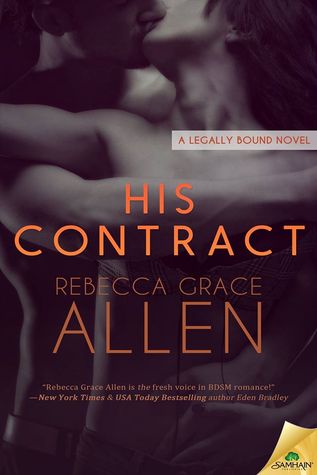 Rating:
★★
★
★
stars
Date published: November 10th, 2015
Publisher: Samhain Publishing, Ltd.
Synopsis:
Lawyers know when to play by the rules…and when to break them.

Legally Bound, Book 1

Harvard law professor Jack Archer once balanced his professional life with the private world of dominance, surrender and trust he shared with his wife. Since cancer stole her a year ago, finding love again—her final wish for him—is the furthest thing from his mind.

From his empty house to the classroom, grief follows his every move. Until he meets a young woman with shadows in her eyes even darker than his own.

Once a shining star at law school, Lilly Sterling's dreams died when the Dom she trusted left her heartbroken and lost. She's starting fresh in a new city as a paralegal, but meeting Jack reawakens all her old demons—and her lingering desires.

Jack offers to become Lilly's mentor for both the courtroom and the playroom, but tells himself it's not a relationship. Their carefully worded agreement guarantees that. But when their trial agreement starts heating up, both Jack and Lilly must decide what will tip the scales: the letter of the law...or love?

Warning: All rise for a book that contains a wounded submissive and a Dominant who wants to retrain her while retaining control of his heart. Discovery phase may involve spankings, bondage, edging, and blindfolds. Is it hot? You be the judge.
I'm not a regular reader of erotic BDSM. However, I've read and enjoyed Rebecca Grace Allen's books before and I know and enjoy her writing style. While her stories do have BDSM and other aspects of that life style, they are also well written, romantic, and often moving. I wasn't expecting to enjoy His Contract as much as I did.
However I instantly fell in love with Jack when I read the prologue. It was clear he was not going to have an easy journey ahead of him.
There were also a number of elements of this story that I thought would work against it. For one, there is a decent age gap between Jack and Lilly. Both of them have recently gone through emotional trauma that has upended their lives. However, I found that everything that might have worked against them as a couple or me rooting for them was irrelevant.
Jack and Lilly really complemented each other. I absolutely loved Jack for how he was with Lilly. He may have had the upper hand in things, but he always let her lead and do what she was comfortable with. He respected her as both a woman and a submissive. I really liked how he took the time to teach her what a submissive-dominant relationship should be like. I think what really took me by surprise was how sweet the romance between Jack and Lilly was.
Rebecca Grace Allen did a great job at balancing the romance with the heat in this book. She did it in a way that even I could enjoy. The BDSM aspect was vital to the development of Jack and Lilly's relationship, but it was done tastefully. I found it hard to put this book down. I'm already intrigued about who the next book will feature. I hope it's about Jack's best friend, but I'm sure I'll enjoy it regardless.
Rebecca Grace Allen writes kinky new adult and hot contemporary BDSM romance. She holds a Bachelor of Arts in English with a double concentration in Creative Writing and Literary Comparison, as well as a Master of Science in Elementary Education, both of which seemed like good ideas at the time. After stumbling through careers in entertainment, publishing, law and teaching, she's returned to her first love: writing. A self-admitted caffeine addict and gym rat, she currently lives in upstate New York with her husband, two parakeets, and a cat with a very unusual foot fetish. - See more at:
http://www.rebeccagraceallen.com/about#sthash.ngkVvJap.dpuf
*Thank you to the publicist for providing a copy in exchange for an honest review. All opinions are my own and I was not compensated for them in any manner.*