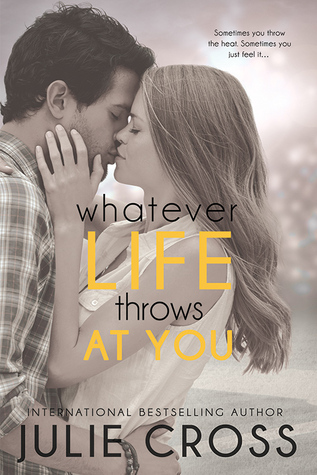 Rating:
★★★★
1/2
stars
Date published: October 7th, 2014
Publisher:
Entangled Teen
Synopsis:
Life loves a good curveball…

Seventeen-year-old Annie Lucas's life is completely upended the moment her dad returns to the major leagues as the new pitching coach for the Kansas City Royals. Now she's living in Missouri (too cold), attending an all-girls school (no boys), and navigating the strange world of professional sports. But Annie has dreams of her own—most of which involve placing first at every track meet…and one starring the Royals' super-hot rookie pitcher.

But nineteen-year-old Jason Brody is completely, utterly, and totally off-limits. Besides, her dad would kill them both several times over. Not to mention Brody has something of a past, and his fan club is filled with C-cupped models, not smart-mouthed high school "brats" who can run the pants off every player on the team. Annie has enough on her plate without taking their friendship to the next level. The last thing she should be doing is falling in love.

But baseball isn't just a game. It's life. And sometimes, it can break your heart…
I love stories featuring athletes. I was very intrigued by the cover and blurb of this book. Athletes who become professional have lots of pressure on them and I thought it'd be interesting to read about how a teenage professional athlete handled the fame and fortune that came at him. Add another teenage athlete and someone who was forbidden and off limits and I knew I had to read this book.
I was surprised by how much I enjoyed this book. I thought it was going to be a light easy read, but it turned out there was more substance than I expected and I enjoyed it. Julie Cross did a phenomenal job at showing how difficult it is for people to adapt to new surroundings and how different the life of professional athletes can be. I really liked Annie and Jason. Annie was down to earth and grounded. She might have been a little jaded from seeing the toxic relationship her parents had and the effect it had on her father, but she was a good kid. Jason too was dealing with new found fame and fortune while trying to make a spot for himself on the team and secure a position with the cards stacked against him.
Jason and Annie had great chemistry together. I really think Annie grounded Jason and supported him. I know that any of sort romantic relationship between them was taboo, but I personally didn't think it was a big deal. They were two years apart in age, and maturity wise they were both on similar levels. They were supportive and beneficial for one another.
It seemed the reasons for them not to be together weren't based on strong, valid points. I also thought it was interesting the contrast that was provided by Lenny and her family. They were dysfunctional to the extreme. I also like how Julie Cross did justice to Annie's Gram and her having Alzheimer's. Annie's relationship with her father tugged on my heartstrings. She was one lucky girl and he was one lucky dad. Their bond is one I wish I could've had with my father.
I honestly feel you have to read the book to understand how nuanced and wonderful it is. I picked it up thinking it was going to fun and instead found something with depth and far more enjoyable. I read this book in a matter of hours. I am very impressed with Julie Cross and will be looking up her back list to see what books I may have missed. I'll also be keeping an eye out for any future publications.
I'm the International Bestselling author of the Tempest series, a young adult science fiction trilogy which includes Tempest, Vortex, and the final installment, Timestorm. I'm also the author of the Letters to Nowhere series, a mature young adult romance set in the world of elite gymnastics, as well as several forthcoming young adult and new adult novels with publishers like Entangled, Sourcebooks, HarperCollins, Random House, and St. Martin's Press/Thomas Dunne Books.
I live in Central Illinois with my husband and three children. I'm a former gymnast, longtime gymnastics fan, coach, and former Gymnastics Program Director with the YMCA. I'm a lover of books, devouring several novels a week, especially in the young adult and new adult genres. Outside of my reading and writing credibility, I'm a committed--but not talented--long distance runner, creator of imaginary beach vacations, Midwest bipolar weather survivor, expired CPR certification card holder, as well as a ponytail and gym shoe addict.
*Thank you to the publisher for providing a copy via Netgalley in exchange for an honest review. All opinions are my own and I was not compensated for them in any manner.*