I love the Sloan brothers and I'm so happy Mathias's book is finally here! Congratulations to Calia Read the third book in the Sloan Brothers series - RUIN YOU COMPLETELY! Make sure to enter the giveaway below. Good luck! #sloanbrothers #MathiasWillRuinYouCompletely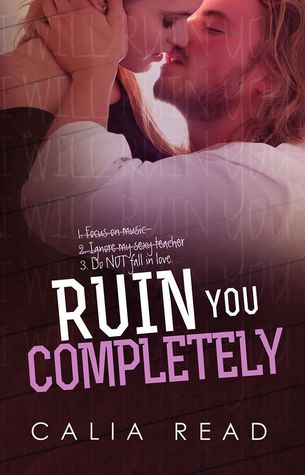 I met Mathias Sloan in a club. Truth. I told him I was twenty-four. Lie. I told him my name was Olivia. Lie. I thought that I would have a one-night stand and be done with him. Truth. I didn't know that he was my new piano instructor for the next six months… Truth. We would come together and fall apart. After him, every man was ruined. Truth. If I knew what I know now, I wouldn't have walked to him. I would've turned and run… LIE.


Neuschwanstein stood tall and imposing to our left. People craned their necks back and took pictures. For the passionate picture takers was a ledge where you could step out and take pictures of the mountains and the stream below. Not a lot of people walked out onto the observation ledge. Forget that it was made out of steel. If you can see the deep ravine beneath you then you're seeing way too much. Most people took a few shots of the castle and hurried off.
Without a second thought I grabbed Mathias' hand and dragged him toward that direction.
"Katja-"
"Come on," I urged.
I'd been here so many times; the novelty of it should have been old. Yet a rush of excitement ran through me. Maybe it was the tourists or maybe it was the man next to me who gave me this feeling.
That man was now frozen in place like a block of ice. He stared down at the deep ravine as if it was the portal to hell.
"Mathias, come on."
"Fuck no."
He took a step back. I stepped onto the steel ledge. He turned white.
"Come out here and see the view."
Mathias hands disappeared into his jean pockets. He rocked back on his heels, looking ready to bolt.
I couldn't believe it. This man, who towered over most people, was afraid of heights.
"Come on," I coaxed one more time. I couldn't keep the small smile from my face. In my position, I don't think anyone would blame me. It was nice to see that Mathias wasn't perfect. He had flaws. He had fears.
"Katinka," he warned.
"Don't be scared."
"I'm not scared," he replied quickly.
I quirked a brow and gestured to the open space next to me. "Then come stand next to me."
Mathias didn't move.
"Live a little," I challenged. I held my hand out, not expecting him to take it. My hand wavered in the cold air, and I smiled softly and said, "Please?"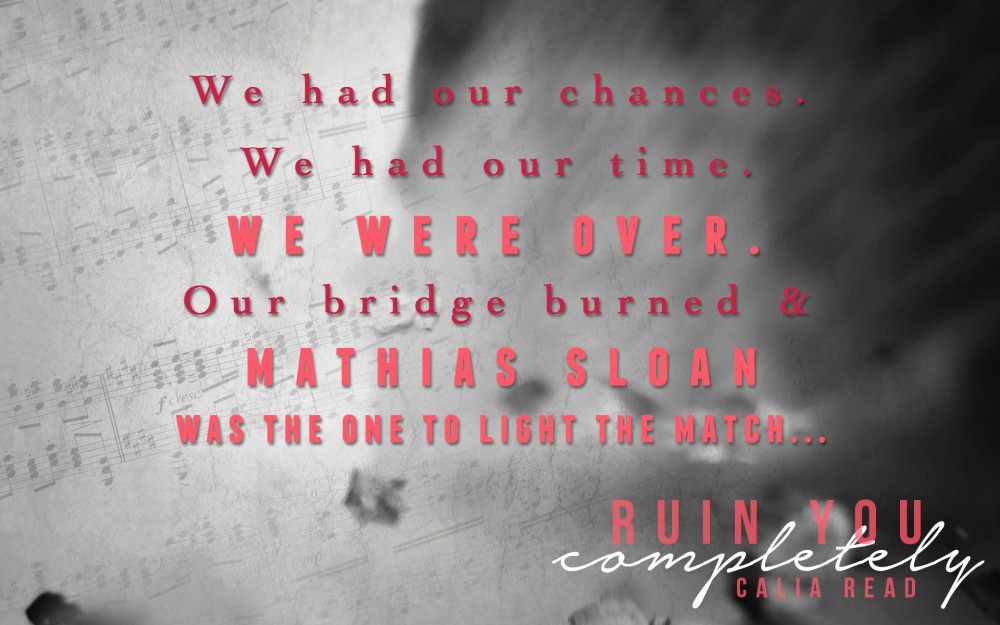 I've read and loved the previous two books in the Sloan brothers series. Mathias has always been this mysterious guy with a brisk personality. He was moody and sarcastic but that only made my curiosity about him grow. I wanted to know what made him tick and what helped shape him. I had no idea how much I was going to love him.
Ruin You Completely really took me by surprise. I was expecting something hot and furious from the blurb and got that, but not in the way I expected. The chemistry between Katja and Mathias is hot and furious, and so is the way it manifests itself when the two finally give in to what they feel. However the build up to it all was what really impressed me. They somehow managed to contain their attraction to each other once they learned each other's identities. However watching them hold it together was both gripping and sometimes painful to watch.
I loved being in both Katja and Mathias's heads. I really liked them both so it was hard to see them try to handle their feelings and making mistakes the way they did. It made me completely sympathetic to Katja and empathetic to Mathias. He really did not have it easy. I loved seeing glimpses of the other Sloan brothers. It made me feel like I'd never left them. It was also good to see them after everything they'd been through as couples.
Calia Read has managed to write Mathias's book better than anything I could've ever imagined. I was unable to put his book down and stayed up late to read it. It's just as broody and delicious as the hero. I was unsure of what was going to happen all the way through the end of the book. I only wish the book and series didn't have to end. I'm jealous of readers who haven't read this series yet. They'll get to experience the magic for the first time. And the catchphrase #MathiasWillRuinYouCompletely is totally the truth.
*Thank you to the author for providing a copy in exchange for an honest review. All opinions are my own and I was not compensated for them in any manner.*