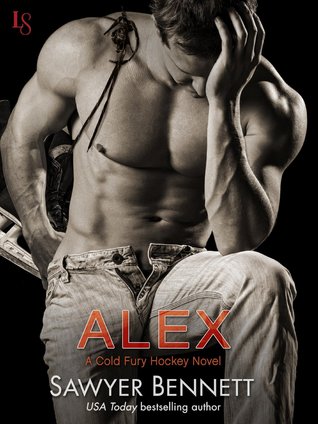 Rating:
★★★★ stars
Date published: October 14th, 2014
Publisher: Loveswept
Synopsis:
Hockey star Alexander Crossman has a reputation as a cold-hearted player on and off the rink. Pushed into the sport by an alcoholic father, Alex isn't afraid to give fans the proverbial middle finger, relishing his role as the MVP they love to hate. Management, however, isn't so amused. Now Alex has a choice: fix his public image through community service or ride the bench. But Alex refuses to be molded into the Carolina Cold Fury poster boy . . . not even by a tempting redhead with killer curves.
As a social worker, Sutton Price is accustomed to difficult people--like Alex, who's been assigned to help her create a drug-abuse awareness program for at-risk youth as part of the team's effort to clean up his image. What she doesn't expect is the arrogant smirk from his perfect lips to stir her most heated fantasies. But Sutton isn't one to cross professional boundaries--and besides, Alex doesn't do relationships . . . or does he? The more she sees behind Alex's bad-boy facade, the more Sutton craves the man she uncovers."
I've been hearing great things about this series for some time. I've read and enjoyed some of Sawyer Bennett's other books and thought it was time I gave this series a try. I'm glad I did. Alex is a fast paced story with lots of heat and emotion.
I've got to admit Alex came off as a tortured guy. Of course the public didn't like him, but knowing why he was never happy really made me hurt for him. It felt like he'd been wronged so much and for so long, he'd forgotten how to be authentic and happy. I really felt he benefited from having Sutton come into his life. It wasn't just a change in his disposition when he was with her, but how he started looking at his life and others around him.
I loved Sutton. She was like Alex in regards to having a poor childhood, however her sunny nature was the opposite of Alex's. I loved how much she loved her job and her level of care and concern for those she dealt with. I really enjoyed seeing her with Alex. It was like they both needed the other to challenge them to be better versions of themselves. Alex certainly changed the most from being in Sutton's presence.
Alex and Sutton were really hot together, but I loved seeing how they were with those around them, especially once they got together. Sutton and her little brother are just adorable, as their parents. I loved seeing Alex become friends with some of his teammates, especially Garrett. I think the best part of this book wasn't all the hot sex Alex and Sutton ended up having, but the strong emotional bond that formed between them. Of course it wasn't perfect and the conflict towards the end of the story made sense, but it felt out of place given how close they were to one another.
However all is well that ends well. I'm already looking forward to seeing what Sawyer Bennett does to surprise me in Garrett. I can't wait to see who steals his heart. If you're looking for something hot with lots of emotion and passion with a dash of attitude and hockey, this book is for you.
Sawyer Bennett
, New York Times and USA Today Bestselling Author, is a snarky southern woman and reformed trial lawyer who decided to finally start putting on paper all of the stories that were floating in her head. Her husband works for a Fortune 100 company which lets him fly all over the world while she stays at home with their daughter and three big, furry dogs who hog the bed. Sawyer would like to report she doesn't have many weaknesses but can be bribed with a nominal amount of milk chocolate.
Click her to visit her website
.
*I bought a copy of this book. All opinions are my own and I was not compensated for them in any way.*