If Sophie and Clayton are back and there's a lot going down! The first book in this NA/adult hybrid series really took me by surprise and it continues in Mad Love 2!
Heartbroken by the handsome and enigmatic Clayton Astor Sinclair, Sophie Walker has put her whirlwind romance with him in the Maldives behind her and is determined to focus on her career as an artist.
But when her new job in the south of France turns out to be too good to be true, she can't help but wonder if she is making a mistake. Their passion cannot be denied, but when Clayton shuts her out after a family tragedy, Sophie is determined to fight for what is right.
She must defy all odds to find her own happily ever after.
This book is intended for mature audiences.
Review
I've been looking forward to this book for almost a year and a half. Mad Love left me anxious for more Sophie and Clayton and I'm so grateful I finally got it. So many of the unanswered questions from the first book were answered and yet so many more were created while reading the second book. Most of all I loved seeing Sophie and Clayton again.
When Sophie and Clayton last parted, it wasn't a very happy separation. Sophie was heart broken and devastated by what she thought had happened. This book opens with Sophie trying her best to move forward, but Clayton has somehow become part of her soul and it's next to impossible to move on. Fast forward to their possibly-not-so- serendipitous meeting, and it's clear neither of them are over the other and the explosive chemistry they have is still going strong.
Of course they have to move past the biggest hurdle of all trusting each other, before they can face the other challenges coming their way. I liked Sophie a lot more in this book. She's stronger, especially when dealing with Clayton and others around her who bullied and put her down. She's more in tune with what she wants and is willing to fight for it if need be. I absolutely adored Clayton in this book as well. He's also more open to Sophie and is letting her in, but then reverts to bad behavior when he's blindsided by a tragedy. Clayton is also kind and loving as seen by his actions toward his mother, brothers, and some cousins.
One thing is for sure. I loved seeing Erik and Orie again. Sophie has some really good friends to support her. I also loved meeting new people who were important to both Sophie and Clayton like Abby, Michael, and Georgie. While I liked learning more about Clayton's past, I had mixed feelings about his parents. I knew how I felt about Clayton's father, but I was undecided about his mother. I found that my feelings for them didn't change much. I couldn't help but contrast them to Sophie's parents and find them wanting.
When it came to Sophie and Clayton, this time around, I could see things were different but I wasn't sure how much Clayton was invested. I thought I did, but then something would happen or he'd do something to make me think he wasn't as emotionally involved as Sophie was. I also hoped it might be a case of him not being aware of his own feelings. That being said, I wasn't sure if this book was going to have a happy ending. I can't really say the book has one either because I still have so many questions regarding Clayton's feelings, Sophie's future, their relationship status, and a whole bunch of questions about Erik and Orie, as well as some of Clayton's family members.
Colet Abedi totally delivered with this book. It was hot, sexy, heavy on the emotions and the drama, but it was one heck of a tale. There were moments of laughter and even some of tears. I'm hoping there will definitely be more books featuring Sophie and Clayton in the future. I don't think their story is quite finished yet.
*Thank you to the publicist for providing a copy in exchange for an honest review. All opinions are my own and I was not compensated for them in any manner.*
Other Books in this Series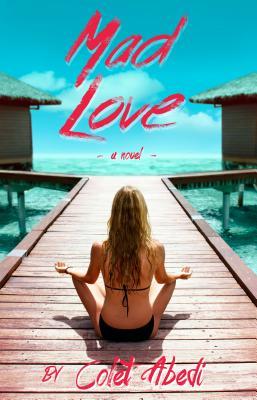 Mad Love (Book 1):
Madly In Love (
Book 1.5):
Colet Abedi has been an entertainment industry executive for over ten years. In addition to working on many television programs for NBC, ABC, FOX, and most cable networks, she is best known for her work as head writer for the telenovela serials American Heiress and Fashion House, the latter of which starred Bo Derek and Morgan Fairchild, on the FOX-owned MyNetworkTV. Abedi currently has one television series in syndication, Unsealed: Alien Files, and has completed Five Souls, her first feature film. She is also the co-author of young adult fiction novel, FAE. Book one was released July 2013 by Diversion Publishing Group and was an instant online bestseller. The Dark King, the second in the planned FAE trilogy, was released May 2014. FAE was recently optioned by Ridley Scott. Colet is a native of California, graduated with a B.A. in English literature from the University of California at Irvine, and currently lives in Los Angeles with her husband and three dogs.