This book has wrecked me in a totally good way. I don't know how I'm going to find the right words to describe what this book made me feel.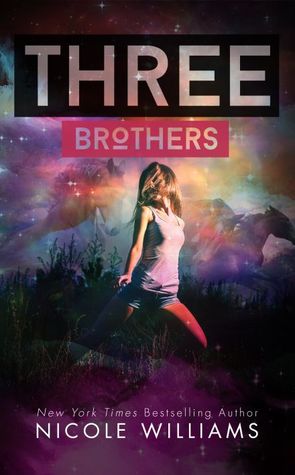 Release:
January 20, 2015
I grew up with three brothers. They weren't tied to me by blood, but our connection went beyond genetics or bearing the same last name. Our connection was forged the summer I turned thirteen, the summer my mom ended her life and left me in the custody of John Armstrong, a man I'd never met. Packing all I owned in a couple of boxes, I left the familiarity of the big city and headed west to Red Mountain Ranch, set in a lonely valley outside of Jackson Hole. 
Nothing was as it seemed at Red Mountain—it didn't take long for me to figure that out. John was kind to me but distant, as if he was afraid to let anyone get too close. His three teenage sons had their own devices for keeping love as far away as they could. The eldest distracted himself with cheap relationships that had a shelf-life of one night. The middle son threw himself into the rigor of running a ranch, and the third wielded cruelty and mind-games in his quest to keep people from getting close. 
Time has gone by, and I've spent those years trying to forget the brother I'd fallen for—the biggest mistake of my life. 
Finally, I've moved on. Finally, I'm back. But what I didn't realize was that running away from the wrong brother meant I'd also run away from the right one. The one who'd been there for me all along, waiting in his brother's shadow for the day I either would or could move on.
But a decade is a long time to wait. Has the brother I should have chosen all of those years ago moved on too? Am I about to discover that my biggest mistake wasn't falling in love with the wrong brother, but failing to return the love of the right one sooner?
Does unrequited love have an expiration date? 
Author
's N
ote:
This book is a "sweet" romance that isn't overly sexy. Fans of LOST & FOUND will be interested in THREE BROTHERS.
I'm at a loss for words. This book has put me through the wringer and I'm still struggling to find the right words for what I felt while reading this book. I was super excited when the news broke Three Brothers was coming and soon. I'm always excited about Nicole William's books. The blurb hinted at a story that held the potential for a dramatic home coming of sorts with possible former lovers reuniting or new connections being made and every excerpt and teaser I read and saw whipped my desire to read this book into a frenzy.
I love how the blurb hinted at everything in the story and yet gave nothing away. I so wanted to know why Scout had run away from Red Mountain and returned under duress. I ached for the Armstrong men as Scout recalled how times used to be and how different things were now. I really liked Scout. She was stronger than she thought, putting herself back in a situation that had the potential to really hurt her and finding a way to deal with it. I also loved her philosophy of helping those needed help as much as she could. The Armstrong men were delicious but tortured. Like Scout, I couldn't help wanting to ease their pains and offer them solace.
The thing that stands out most for me is the emotions. I experienced so many as I was reading. The two most pervasive were sadness and hope. When I started this book, I had no idea what Scout had faced, let alone the Armstrong family. I was both awed by their resilience and hurting for them simultaneously. There were moments when I couldn't stop the tears as they flowed down my cheeks and when I finished reading I was ugly crying. I don't think I'll be able to think about this book without getting teary.
Nicole Williams has written a masterpiece. This story is raw, gripping, and breathtakingly beautiful. It's about family, love, sacrifice, and so much more. It's a powerful attestation to true love and also the trials and tribulations that come with finding it and losing it. I sincerely wished the book had been longer, because while I was devastated when I finished reading it, it felt like I finished the book in no time. I would've loved to have seen bits and pieces of the way things were before Scout left. I didn't want the story to end. I want to know what happens to Scout and the Armstrong men in the future. I never want to stop reading Nicole's books and this one is no exception.
*Thank you to the author for providing a copy in exchange for an honest review. All opinions are my own and I was not compensated for them in any manner.*
I'm the New York Times and USA TODAY bestselling author of the CRASH series (
HarperTeen
, S&S UK), LOST & FOUND series, UP IN FLAMES (S&S UK), The EDEN TRILOGY, and a handful of others. I write stories about everyday kinds of people who find themselves in extraordinary kinds of situations. I tell love stories with happy endings because I believe in making the world a better place, and that's one tiny way I can make it so. I'm one of those people who still believe in true love and soul mates, and would rather keep my head in the clouds any day over having my feet firmly on the ground.