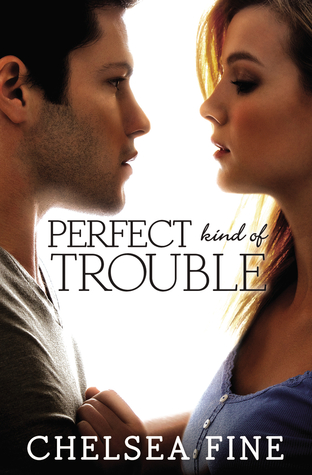 Rating:
★★★★★ stars
Date published: June 17th, 2014
Publisher: Forever
Synopsis:
Sometimes when perfect falls apart, a little trouble fixes everything . . .
Twenty-one-year-old Kayla Turner has lost everything. After spending most of her life taking care of her ailing mother, she just wants to spot a glimmer of light at the end of the tunnel. So when her late father-a man she barely knew-leaves her an inheritance, she finally breathes a sigh of relief . . . until she learns the inheritance comes with strings. Strings in the form of handsome playboy Daren Ackwood, her father's protégé. To see any of her inheritance, she's forced to team up with him. From his expensive car to those sexy dimples, Kayla's seen his type before. But Daren isn't who he seems to be . . .
Struggling to make amends for his family's mistakes, Daren has a life more Oliver Twist than Richie Rich these days. He's beyond grateful that James Turner included him in his will, but working with Turner's princess of a daughter to fulfill his cryptic last wish is making Daren wonder if being broke is really so bad. Still, she's just as beautiful as she is stubborn, and the more time he spends with Kayla, the less it feels right being without her. Soon Daren and Kayla begin to wonder if maybe the best gift Kayla's dad could have left them . . . was each other.
Having read the first book in this series, I thought I knew what to expect. I had high levels of expectations to be met, assumptions you can say, and they were met. The assumptions Daren and Kayla made about each other and what they thought they knew on the other hand, weren't so spot on.I love how Chelsea Fine made this story so much more than a romance. It was a mystery and journey that I loved being a part of.
Daren and Kayla are so similar but they can't see it. Each of them is projecting a persona they hope others won't be able to see through. Being forced to spend time with each other from necessity allows them to see past those personas to what really lies behind the facade. I loved seeing them discover each other in a way. It was raw, emotional, and hot too. I couldn't get enough of both of them. I'm usually not a fan of books where people fall in love quickly, however in this case, it really didn't feel like everything transpired in a couple of days.
I read this book in one go and in a couple of hours. There was nothing I wanted to do than to find out why Kayla was estranged from her father and why Daren's flashy car had been repossessed. I loved seeing Pixie and Levi again. It made my heart happy to see them happy and embracing life and each other again. I can't wait to read the third book in this series and see what surprises Chelsea has in store for us. She's got a knack for writing characters and stories I can't wait to read.
Chelsea lives in Phoenix, Arizona where she spends most of her time writing stories, painting murals, and avoiding housework at all costs. She's ridiculously bad at doing dishes and claims to be allergic to laundry. Her obsessions include: superheroes, coffee, sleeping-in, and crazy socks. She lives with her husband and two children, who graciously tolerate her inability to resist teenage drama on TV and her complete lack of skill in the kitchen.
You can find out more about her and her books here:
*I was given a copy by the publisher in exchange for an honest review via Netgalley. I wasn't compensated in any manner and all my opinions are my own.*