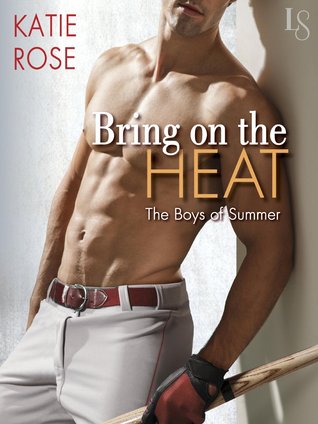 Rating:
★★★1/2 stars
Date published: August 26th, 2014
Publisher: Loveswept
Synopsis:
In Katie Rose's irresistible battle of wits, a case of mistaken identity lands a female fan in bed with a sexy superstar—and in major-league trouble.
House-sitting for a rich and famous friend has its perks, and Darcy Hamel isn't shy about enjoying them. Especially when it means scoring a ticket to an exclusive fashion show hosted by the New Jersey Sonics. An avid baseball fan, Darcy has always dreamed of meeting the team—especially the starting pitcher whose body is as hot as his fastball. But there's a catch. The gala is by invitation only. To get behind the velvet rope, mild-mannered Darcy will have to pose as party girl Lydia Logan.
Schmoozing is one of the downsides of fame, but Chase Westbrook knows how to liven up even the dullest event. And nothing spices a night up more than a beautiful socialite with a naughty reputation. What Chase doesn't expect is a hint of sweetness beneath her sultry façade. Flirtation turns to seduction and leaves him aching for more. Chase just doesn't know who the real Lydia is: the spoiled tease crying foul over some missing diamonds or the alluring woman making a play for his heart.
I initially thought I'd really enjoy this book and it started off great. Somewhere along the line, around half way through, I stopped liking Darcy and Chase. It seemed my initial impressions of Darcy, Chase, and Lydia were wrong.
I love sports romances and I enjoyed how there was actually sports related information in here beyond Chase being the best and hottest player on his team. That and Chase's relationship with his father were my favorite parts of the story. Beyond that I found it really hard to believe Darcy didn't try harder to let Chase know who she really was. I mean having a guy you're hot for call you by another woman's name is really tough to put up with.
Even though I stopped liking the characters, I wasn't able to put the book down until it was finished. It flowed smoothly even if I wasn't happy with what was going on. Katie Rose has some real potential and I look forward to seeing what she does with the rest of this series.
Award-winning historical author Katie Rose makes her contemporary debut with the Boys of Summer novels, Bring on the Heat and Too Hot to Handle, which combine Katie's true loves: baseball and romance! When not watching baseball, Katie is at her lake house in New Jersey, hard at work on her next book.
**Colleen is the bestselling author of twelve historical romance novels published under the names Colleen Quinn and Katie Rose.**
* A copy was provided by the publisher via Netgalley in review for a honest review. All opinions are my own and I was not compensated for them in any manner.*