New Cover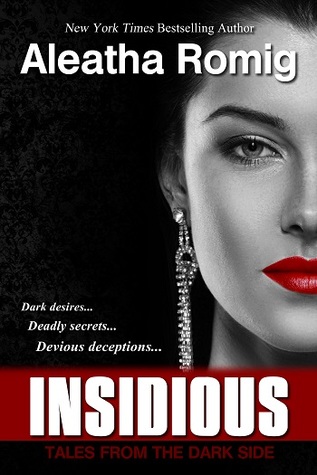 Original Cover
Rating:
★★★★★ stars
Date published: October 21st, 2014
Publisher: Romig Works
Synopsis:
Dark desires…Deadly secrets…Devious deceptions…Nothing is exactly as it seems in INSIDIOUS, the new erotic thriller from New York Times and USA Today bestselling author Aleatha Romig.
When a powerful man is willing to risk everything for his own satisfaction, only one woman can beat him at his own game: his wife. Or so she thinks…
"Let's start with you calling me Stewart. Formalities seem unnecessary."
Stewart Harrington is rich, gorgeous, and one of the most powerful men in Miami. He always gets what he wants. Anything is available to him for the right price.
Even me.
Being the wife of a mogul comes with all the perks, but being Mrs. Stewart Harrington comes with a few special requirements. I've learned to keep a part of myself locked away as my husband watches me submit to his needs. But the more he demands of me, the more beguiled he becomes and that's to my advantage. So I keep fulfilling his fantasies and following his rules because he doesn't know that what he's playing is really my game. And winning is everything, right?
Insidious is a stand-alone novel and the first Tales from the Dark Side title. Due to the dark and explicit nature of this book, it is recommended for mature audiences only.
I picked a great book to be my first Aleatha Romig book. She's an international best seller and I've heard so many good things about her Consequences series, but something held me back from reading her. Then I spotted this beauty and knew I had to read it. Boy did I have no idea what I was in store for.
The prologue really got things going right away. I knew that this story was not going to be easy and light in any way, but boy did it catch my attention. The first chapter confirmed the fact I was going to be on edge through out the book. I don't really know how to describe this book. It's not as dark as some of the books I've read, but it's not anywhere near mainstream either. I'd call it a psychological thriller. I mean this book totally played games with my mind.
Victoria Harrington was a really interesting character. I liked her, even when she was being not so nice. I loved and hated reading about how she ended up in the position she was in. I loved because it was fascinating to see the transformation from the girl she was to the woman she ended up being, and hated because of what she had to go through to get there. I admired her for her strength. The things she put up with and accomplished were astounding. Victoria might have been at the center of this gigantic puzzle, but she wasn't as weak or a pushover as those trying to control her suspected.
Honestly there isn't much I can say without giving away part of the story. Just know that the twists are crazy amazing. You think you know what's happening and then all of a sudden everything you thought you knew is wrong. The same goes for Victoria. I think that was the best part for me. Not only did I connect with Victoria, but it felt like I was there with her experiencing everything myself. Along with plenty of WTF moments you'll experience lots of emotions, primarily anger, frustration, and even happiness. I'm kinda glad this is a stand alone even if I can't help wanting more. I do know I will certainly be reading more of Aleatha's books. I just need to be prepared to have my mind blown.
Aleatha Romig is a New York Times and USA Today bestselling author who lives in Indiana. She grew up in Mishawaka, graduated from Indiana University, and is currently living south of Indianapolis. Together with her high-school sweetheart and husband of twenty-eight years, they've raised three children. Before she became a full-time author, she worked days as a dental hygienist and spent her nights writing. Now, when she's not imagining mind-blowing twists and turns, she likes to spend her time with her family and friends. Her pastimes include reading and creating heroes/anti-heroes who haunt your dreams!
INSIDIOUS is Aleatha's seventh novel. It is her first time to delve into the world of erotic thrillers. The Consequences Series, her first series has been categorized as psychological thriller and dark romance. With INSIDIOUS, Aleatha took the twists and turns of CONSEQUENCES and turned up the heat.
CONSEQUENCES, her first novel, was released August 2011, by Xlibris Publishing. Then in October of 2012, Ms. Romig re-released CONSEQUENCES as an indie author. TRUTH, the sequel, was released October 30, 2012, and CONVICTED, the third in the series, was released October 8, 2013. Unexpectedly, the fourth book of the Consequences series came to life with REVEALED: THE MISSING YEARS. It is the fourth full-length novel in the series. It explores the years in CONVICTED that previously were only mentioned, as well as a complete character glossary and timeline. REVEALED was released May 20, 2014.
INSIDIOUS, the first released book from TALES FROM THE DARK SIDE will be released October 21, 2014. TALES FROM THE DARK SIDE will be a series of standalone, dark, erotic thrillers guaranteed to take you on a wild, hot, and dark ride. Each novel in the series will be independent of the next. The characters from one book will never be revisited. Instead, Aleatha leaves it up to her readers to imagine how each story will end while remembering that it is the journey that is the most fun.
Aleatha is a "Published Author's Network" member of the Romance Writers of America and represented by Danielle Egan-Miller of Brown and Miller Literary Associates.
*Thank you to the publicist for providing a copy in exchange for an honest review. All opinions are my own and I was not compensated for them in any manner.*