Rating:
★★★★★ stars
Date published: July 28th, 2015
Publisher:
Synopsis: They don't play for the same team. Or do they?
Jamie Canning has never been able to figure out how he lost his closest friend. Four years ago, his tattooed, wise-cracking, rule-breaking roommate cut him off without an explanation. So what if things got a little weird on the last night of hockey camp the summer they were eighteen? It was just a little drunken foolishness. Nobody died.
Ryan Wesley's biggest regret is coaxing his very straight friend into a bet that pushed the boundaries of their relationship. Now, with their college teams set to face off at the national championship, he'll finally get a chance to apologize. But all it takes is one look at his longtime crush, and the ache is stronger than ever.
Jamie has waited a long time for answers, but walks away with only more questions—can one night of sex ruin a friendship? If not, how about six more weeks of it? When Wesley turns up to coach alongside Jamie for one more hot summer at camp, Jamie has a few things to discover about his old friend...and a big one to learn about himself.
Warning: contains sexual situations, skinnydipping, shenanigans in an SUV and proof that coming out to your family on social media is a dicey proposition.
I haven't read very many books featuring males as the the romantic love interests. I've enjoyed the few that I have, but none as much as this one. This will be the book I compare all future new adult m/m books too and I don't say that lightly. I've always understood and accepted homosexuality, but I wasn't ever able to bring myself to read romance novels about it. I've certainly read my fair share of erotica with menages, but two guys by them selves wasn't ever a priority. I'm not exactly sure why but I discounted the feelings and emotions guys can have. I thought I wouldn't feel the same emotional connection as I would with a heterosexual couple or be able to relate to the protagonists. I was wrong.
I was really surprised by how much I could relate to Wes. He comes across as confident and secure, yet when it comes to Jaime, the person he's loved for so long, he's skittish and terrified. I understood why his fears and his reasons even when he said and did things I didn't think were helpful or right. I loved Wes's personality. He was wild and up for anything. He was also kind, considerate, caring, driven, and talented. He knew what he wanted to do and he was going to make it happen. I loved how he was himself and didn't try to fit into whatever mold others wanted him to.
I really liked Jaime too. Compared to Wes he was more relaxed and laid back. I loved the wisdom he gave as a counselor to his campers. It was as deep as it was simple. While I feel like Jaime had the upper hand in the relationship, I liked how he never abused it. I also felt like Jaime was the wild card in the story. Even being in both his and Wes's head never really made what they wanted completely clear. I loved the insight I got from it. I loved how Jaime was with his family. They were such an open, loving bunch. I completely got why Wes envied Jaime for that; Wes's parents were horrendous.
Wes and Jaime had some amazing emotional and physical chemistry. I knew from the get go Wes was attracted to Jaime, but it was interesting watching Jaime figure out what he wanted. The intimate scenes between them were scorching hot. I mean I was seriously turned on! This book was full of surprises for me. I was surprised by how often I laughed and even by a few tears. Even more so were how many of my misconceptions about m/m romance were dispelled. Sarina Bowen and Elle Kennedy did a phenomenal job at writing this book. It's written seamlessly and you can't tell where one started writing and the other stopped. I'd definitely recommend this book to people looking for characters with a strong emotional connection with lots of hot, steamy sex!
Sarina Bowen writes steamy, angsty contemporary romance from Vermont's Green Mountains. (Her ancestors began logging and farming Vermont during the 18th century. These were rugged, outdoor types without benefit of a laptop or a good latte. It boggles the mind.) Sarina enjoys skiing, skating and good food. She lives in Windsor County, Vermont, with her family, eight chickens and too much ski gear and hockey equipment.
https://www.goodreads.com/author/show/7737308.Sarina_Bowen
http://www.sarinabowen.com/
http://www.twitter.com/sarinabowen
https://www.facebook.com/authorsarinabowen?fref=ts
Elle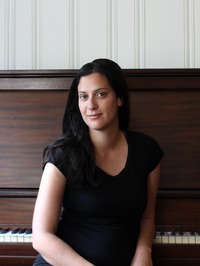 A USA Today bestselling author, Elle Kennedy grew up in the suburbs of Toronto, Ontario, and holds a B.A. in English from York University. From an early age, she knew she wanted to be a writer, and actively began pursuing that dream when she was a teenager.
Elle writes romantic suspense and erotic contemporary romance for various publishers. She loves strong heroines and sexy alpha heroes, and just enough heat and danger to keep things interesting!
https://www.goodreads.com/author/show/1935000.Elle_Kennedy
​
http://ellekennedy.com/
http://www.twitter.com/ellekennedy
https://www.facebook.com/AuthorElleKennedy
*Thank you to the publicist for providing a copy in exchange for an honest review. All opinions are my own and I was not compensated for them in any manner.*